Louise, a Nurse, married Pharmacist Nick, at The Engine Works in Glasgow, Scotland, on 24th July 2022.
The couple were inspired by the cities of Glasgow and New York in styling their day, which they wanted a strong industrial backdrop for. Think New York taxi cabs, champagne towers and one gorgeous, backless wedding dress and polka dot veil.
Our love and thanks to our recommended photographers, The Gibsons, for sharing these gorgeous images.
A Sarah Seven Wedding Dress
I wore the Christi dress by designer Sarah Seven, from Heart Aflutter  in London. I was going specifically for this dress. I had tried on over 30 dresses in Scotland but I couldn't get this one out of my head.
I had pinned a similar Sarah Seven dress on Pinterest in 2016 – long before I was engaged so I felt I had to make the journey to London to see if it was really the one.
The girls at Heart Aflutter made the whole experience so special. I had a pre appointment consultation to discuss styles and budget etc. I would absolutely recommend them.
I loved how my dress was very classic. I felt that it was simple but also had lots of details that made it stand out. The backless detail counteracted the high neckline. The split at the front showed a bit of skin while the sleeves covered me up. I just loved it and I felt amazing! Also I had tried on so many dresses and not had "the feeling" but after I tried on Christi I left the shop and burst out crying because I was so overwhelmed with how I felt in it.
Bridesmaids
They were from Silkfred. I loved these so much. The colour was perfect. The design had a front split too which matched in with my dress and the fabrics were also very similar. The girls all felt so comfortable in them and the quality was amazing.

My veil was from Lamnhi Studio. Due to my dress being simple I wanted a statement veil.
It was polka dots and I had it embroidered with song lyrics from our song – the words read "I love you, I have loved you all along" – lyrics from Nickleback's 'Far away'.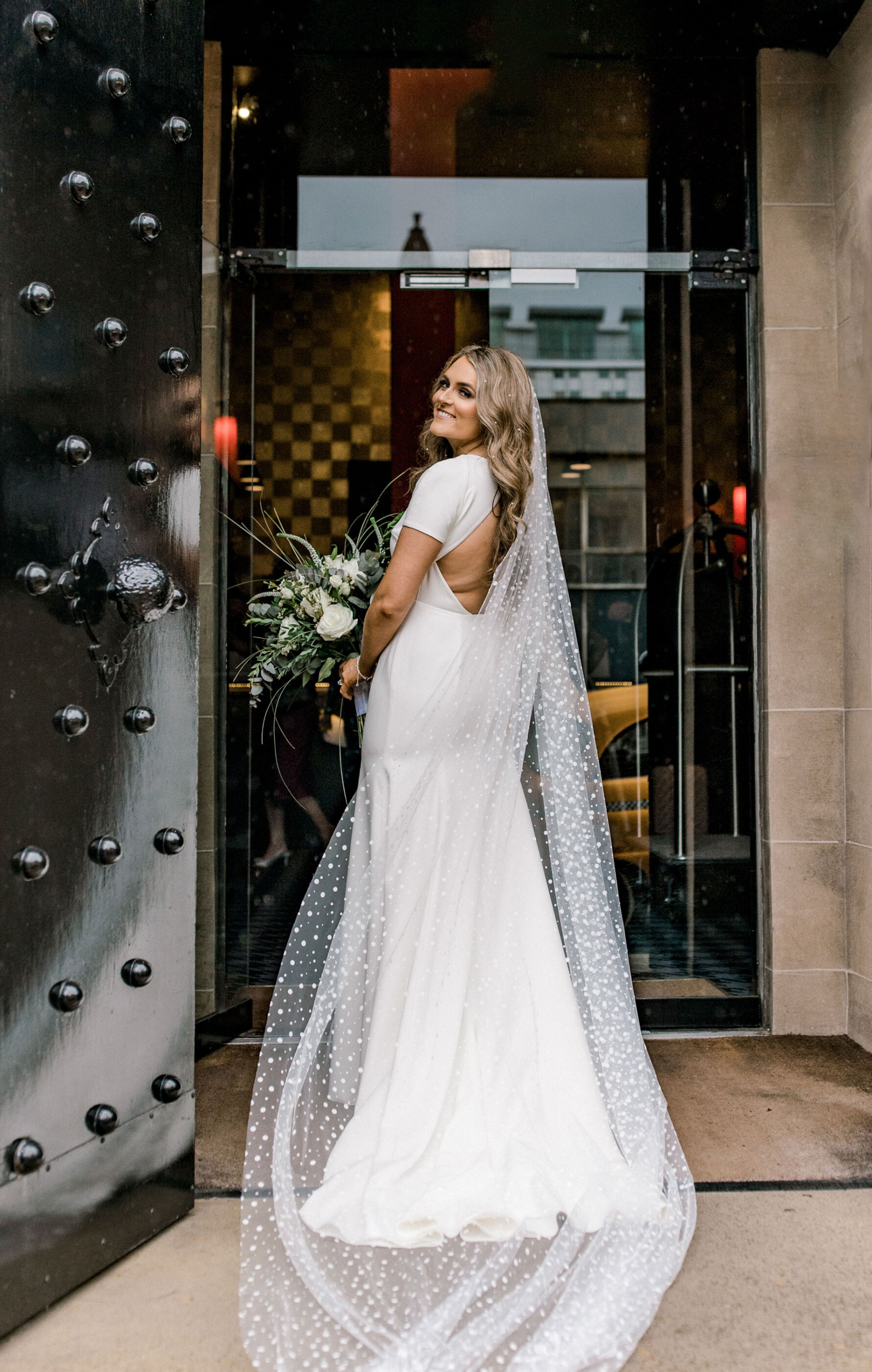 An Industrial Backdrop at The Engine Works, Glasgow
I always say that my two favourite places in the world are Glasgow and New York. We tried to style our day as an industrial theme with hints of Glasgow and New York. For example I arrived by New York taxi cab and the bridesmaids arrived by Glasgow cab.
We hired a new York city checker taxi cab from Car & Classic, for me to arrive to the venue in.
An Industrial Backdrop at The Engine Works, Glasgow
I always say that my two favourite places in the world are Glasgow and New York. We tried to style our day as an industrial theme with hints of Glasgow and New York. For example I arrived by New York taxi cab and the bridesmaids arrived by Glasgow cab.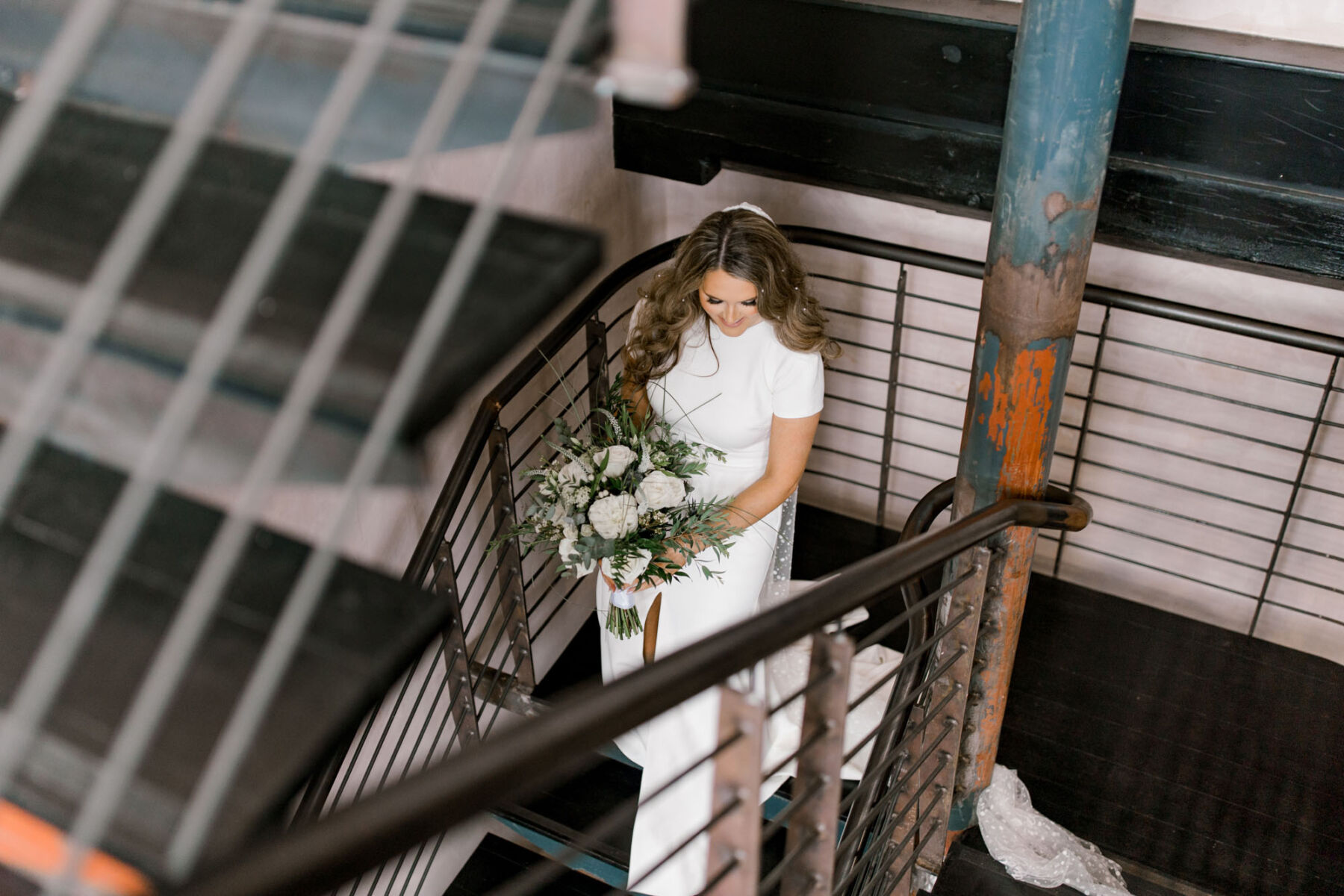 Blue is my favourite colour but I felt that picking a particular shade was too much pressure so we had various shades of blue used throughout our day. My dress was also made in New York City which I absolutely loved. I also asked my close friends to wear blue coloured dresses so even the guests ended up styling the venue with our colour scheme.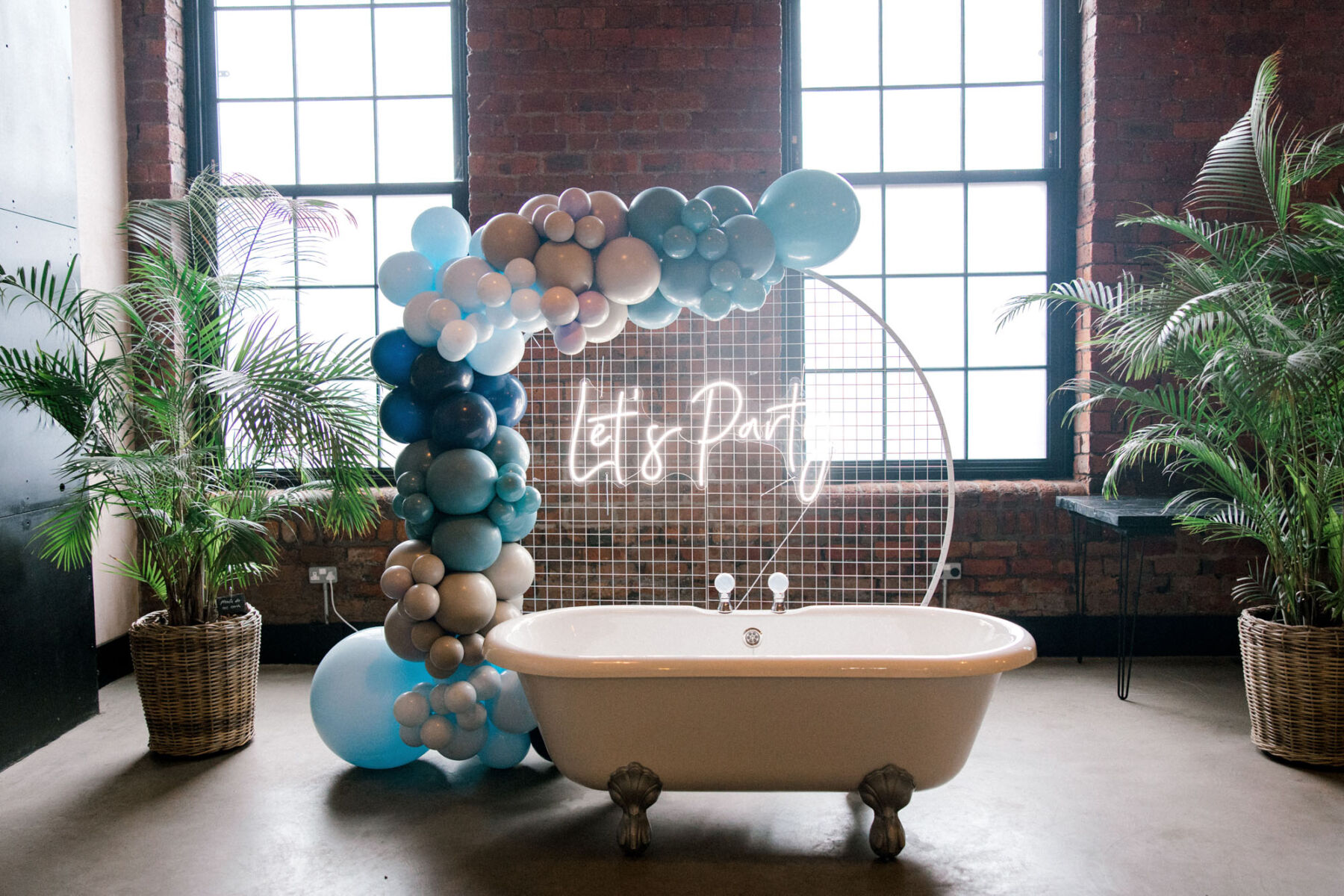 We loved the industrial feel of the place. It was the perfect amount of modern and quirky for us. I actually cried when we left the venue as it was so perfect.
It was a bit of a blank canvas so had a lot of potential but it was also stunning without any décor.

The Ceremony
My dad walked me down the aisle – it was so special. The ceremony was everything we could have wanted – our humanist celebrant, Hazel Sharp, absolutely nailed it.
Our wedding rings are by Marant Jewellery (no website, but ring 0141 616 0815). I found Anthony, the jewellery, through a wedding magazine – as he has designed Jamie Genevieve's wedding ring. I fell in love with the design as I wanted something similar. Anthony designed my ring and had a silver casting made up for me within a few weeks and it was perfect with my engagement ring. We gave the go ahead and he had it made in platinum in no time, it gets so many complements as it's so unique.
We had a few Scottish tradition during our ceremony such as drinking from the quaich – traditionally you would drink whiskey but we chose to drink rhubarb and ginger gin to put our own twist on the tradition. We also used a piece of Nic's Kilt tartan and a ribbon emblazoned with pictures of us to perform a Scottish handfasting during the ceremony which is a Scottish tradition and symbolised the saying "Tying the Knot".
Traditionally a handfasting involved a couple, taking turns to hold each other's right hand and declare them as their wedded husband or wife; much in the same way as vows are made now.
Photography by The Gibsons
Once we had found our venue I said to Nic, "we can't book this until I know if The Gibsons are available on that date!".  I had followed The Gibson's for years before we were engaged. I always loved their style and would always imagine what our wedding would look like photographed by them.
Honestly no one else really compared in my eyes. I had emailed them to ask if they were available and explained how much I loved their work and that they were really my only option as a wedding photographer. They usually don't book that far in advance but amazingly they agreed to go ahead with our booking for 2021. When we postponed, they were so understanding even though I know all the postponements were so tough for them – and all our suppliers.
We had an engagement session with them in September 2020 and we all got on so well. They made us feel so relaxed and the photos were incredible. How they can make standing in a carpark beside a bush look like you are inside a forest I'll never know – it's just raw talent.
They use the light so well and bounce their ideas and angles off each other.
At one point during our shoot Scott got so excited that he had found amazing lighting he was like "Chantal! Look at this!" she would then run over and take photos. They are some team and an amazing couple.
We had a few large bespoke signs designed and made. This include our welcome sign – a sandwich board out on the street saying "Coupla wee belters getting married inside" which is Scottish slang but we loved it and thought it was a nice casual welcome for our guests to show our wedding was going to be fun and not too formal.
On the day they were amazing at coordinating the photographs and ideas we had discussed prior to the wedding. I knew I could trust them.
Things are obviously chaotic on the day but I had so much trust in them to organise my vision and that's exactly what they did. Even with a surprise visit from some furry friends not behaving for a photograph they took it all in their stride.
The weather was also an issue on the day but they always had an alternative option prepared in advance. Instead of taking photos outside they asked if it was ok to take indoors and showed us some photos they had test shot there – which obviously looked amazing. Our confetti photo was also not able to be taken outside and they re-organised it to be taken inside without any stress to myself or Nic.
The wedding photos we have received so far are so precious to us. They are honestly my most favourite photos ever and a total prized possession of ours already. I can't believe it us and our wedding. They are really perfect I have no words. I will never be able to thank them enough.
How They Met
The taxi cab that escorted me earlier, stayed inside our venue for photographs and then took us to Mcdonalds for some more photos and a snack. Roy was so professional and his car was in perfect condition we can't thank him enough we loved it so much and everyone was amazed by it!
We met at high school in our second year when we were around 13 years old. We were always flirty as we got older but we were always good friends until we were about 16 when we finally became an item.
After school we both moved to Glasgow to study. Nic at Strathclyde and me at Glasgow University. I was gutted to hear that my student halls were full and I would be placed at an alternative location but when I moved into my new student accommodation – I could see Nic's halls from my window!
After uni we traveled a lot and went on many adventures – 18 countries we have travelled to in our 13 years together. When we moved into our first home together in 2017 I was ready to get engaged and I didn't shy away from letting Nic know about it.
Finally in Melbourne in October 2018 Nic had planned to pop the question. Unbeknownst to me he had hired a Vencian boat and bought my dream ring and we were to set sail down the Yarra river at sunset where he would ask me to be his wife. On the way to the jetty I noticed that Taylor Swift was playing in Melbourne that night. I now decided that a boat ride didn't sound that exciting anymore and was trying to convince Nic to get tickets for the concert.
Luckily Nic managed to talk me into the boat ride. The proposal was perfect, and I never suspected a thing – I always say you can tell by the outfit I wore that night that I had no idea I was getting engaged. We flew to Tokyo a few days later to celebrate my birthday and we had the best week there ever in our new engagement bubble.
Due to covid we were engaged 1367 days before we were finally able to get married.
Reception
Our caterers, Regis Banqueting, were so organised with the service – it went so smoothly. The food was amazing and they were amazing catering to our guests with dietary requirements and allergies.
During the ceremony, canapes and meal we had Andy Lucas play piano. He was so talented and had everyone up singing and dancing during the meal it was so fun.  Our band was Los Perros. We had booked them years ago. We had seen them play at a showcase and instantly knew we had to have them play at our wedding. They covered our first dance song so perfectly and the dance floor was packed all night.
Jennifer Kelly is Nic's aunty. She used to own a flower shop and she was always going to be our florist. She went over and above with our wedding flowers I was looking around the venue on the day and I just couldn't believe how many flowers we actually had and how beautiful they were.
We opted for lots of wild foliage some white roses/peonies and some thistles to tie in with our Scottish wedding and blue theme.
For favours, men received Bowmore Whiskey favours and ladies received Lingin personalised favours. Lingin is a local distillery owned by my aunt and uncle. It's the best Gin I have ever tasted and was so nice to promote their gin at our wedding and a lovely local business. So many people have text us and said how much they enjoyed the gin.
A Champagne Tower
Instead of a cake, we chose to have a champagne tower. Our venue set this up for us. We had so much fun pouring the champagne and our guests got a few extra glasses too.
Evening & Dancing
Our first dance we 'Take over the world', by the Courteeners. We've always loved the song but we thought it was a perfect start to our new chapter as a married couple – 'I think it's time for me and you to take over the world'.
Aside from the ceremony – the bridal party done an entrance into the evening reception. Our venue had a balcony so the groomsmen, bridesmaids and myself and Nic all took it in turns to be introduced to the balcony – wave to the guests and then head to the dance floor. Before the entrance myself and Nic had a bit of time together to relax and reflect on our day. This also meant that our evening guests hadn't seen us yet so it was exciting to do an entrance just for them.
Everyone was cheering us on it was amazing to see everyone from the balcony. After this we ran down the stairs and all the staff were clapping and cheering us on we were so happy. We ran on to the dance floor – were handed bottles of champagne and began to pour them into the champagne tower. We did this all to the song 'I'm a believer', by Smash Mouth. We are massive Shrek fans so this was also a nod to Shrek.
Words of Wedded Wisdom
Maybe not stress about the little things; no one cares about where the guest book is sat, or the fact we ran out of flip flops/dancing shoes for guests. Just know that on the day, you won't care about the tiny details. I don't think I even cared about the big stuff either! We were just so happy.
Everyone says it but the day goes so fast. Be selfish – spend time with your partner, dance, laugh – don't worry about saying hello to guests – they will understand. Don't stress about the little things and the things you cannot control on the day such as the weather. If you had told me it would rain on our wedding day I would have been devastated but on the day I really didn't care as we were just so happy.
Originally we had a £30k budget, but I think our final cost was £37/38K, excluding our honeymoon.
Credits & Thanks